Floating Contact Form Portlet
Zurück Net Zero Carbon customer story - De witte Lietaer
In 2019, Belgian linen maker De Witte Lietaer won the Get Smart in Packaging Award by upcycling leftover fabric to re-usable bags. In 2020 they offset all CO2 emissions for sea logistics shipments through Kuehne+Nagel's Net Zero Carbon programme. What motivates them to go green?
Customer:
De Witte Lietaer
Solution:
Net Zero Carbon
---
De Witte Lietaer produces a wide range of high-quality bath, bed, table and kitchen linen and relies on Kuehne+Nagel's Sea Logistics services to import and exports materials and good

Kuehne+Nagel drives solutions for customers to address their logistics emissions
---
West-Flanders has long been the center of gravity for Belgium's textile industry. The region is also home to De Witte Lietaer, a well-known linen maker in Belgium whose activities date back to 1898. The company's qualitative fabrics serve hotel chains around the world, although their B2C market has grown significantly in recent years too thanks to eye-catching designs, which you can find at various resellers and e-shops. For several years, De Witte Lietaer has relied on Kuehne+Nagel's Sea Logistics team to import the necessary materials and to export finished products to their customer base across the ocean.
When Kuehne+Nagel launched its Net Zero Carbon programme, De Witte Lietaer was among the first to raise their hand – aiming to eliminate CO2 emissions for their Full-Container-Load (FCL) shipments. Yannick Raes, Sales Manager, says: "Through our platform seaexplorer customers can pick the most sustainable carrier options for their shipments, have full visibility of their shipments' CO2 emissions and choose to offset these with our help. We notice that customers increasingly demand this. De Witte Lietaer was one of the first to sign up for it in Belgium."
The sustainability-minded team behind De Witte Lietaer's CSR harmonizes profit with responsible business conduct with initiatives that span their entire supply chain. Filiep Blondeel, Purchasing Manager Home Textiles, says: "Our primary motivation is to contribute to a habitable and healthy planet earth for the next generations. We have staff members who are very engaged in the cause and think along to make our organisation greener."
One such example is the upcycling of leftover fabric to re-usable bags that also serve as packaging of sheet covers, hence eliminating plastic. This innovation earned them the Get Smart in Packaging Award in 2019. "More and more customers also ask for greener solutions", adds Filiep, while showcasing a custom-made re-usable duvet and pillow packaging solution which they produced on demand.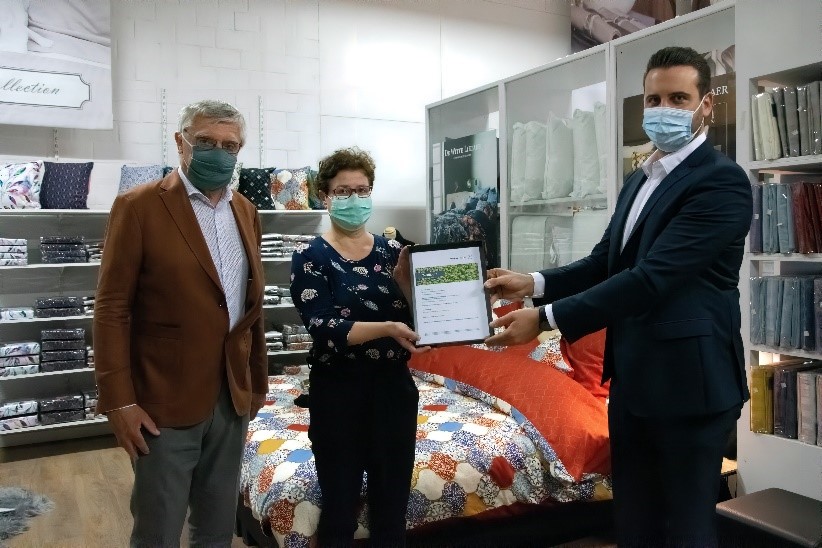 The Net Zero Carbon certificate, which serves as proof for the offsetting of their Sea Logistics activities in 2020, nicely complements these efforts.
Kuehne+Nagel is proud to offer transparent and easy CO2 visibility and offsetting solutions to support our customers in our shared efforts to curb global warming.
"
Our primary motivation is to contribute to a habitable and healthy planet earth for the next generations. We have staff members who are very engaged in the cause and think along to make our organisation greener.

Filiep Blondeel, Purchasing Manager Home Textiles