Floating Contact Form Portlet
Flexibele containerverzendoplossingen. Technologie gecombineerd met expertise. Doen wat u aan uw klanten hebt beloofd.
Zou u met voorspelbare doorlooptijden en een snellere marktintroductie uw klanten beter van dienst kunnen zijn?
U kunt erop vertrouwen dat wij doen wat we beloven: door gebruik te maken van de modernste technologie en ons internationale netwerk hebben we de juiste oplossing en expertise voor containervervoer, zodat u op tijd en op de juiste plaats over uw producten kunt beschikken. Onze wereldwijde zeevrachtspecialisten staan voor u klaar om de meest efficiënte scheepvaartverbindingen te vinden die aan uw unieke vereisten voldoen. Hoe groot uw bedrijf ook is: wij kunnen uw groei en expansie ondersteunen.
Als marktleider in zeevracht bieden wij uitgebreide persoonlijke dienstverlening met het beste van twee werelden: een wereldwijd netwerk in combinatie met ongeëvenaarde lokale expertise.
Ons zeevrachtportfolio omvat:
en daaraan gerelateerde diensten:
Orderbeheer voor internationale toeleveringsketen, mogelijk gemaakt door het samenwerkingsplatform KN ESP om toeleveringsketenpartners te managen en end-to-end operationele processen en informatiestromen te optimaliseren
Realiseer uw milieudoelstellingen door gebruik te maken van onze duurzame en innovatieve toeleveringsketenoplossingen die zowel de ecologische voetafdruk van uw zendingen verkleinen als compenseren. Onze oplossingen variëren van CO2<\sub>-vrij transport tot ecologisch duurzame biobrandstoffen.
Blijf uw concurrenten een stap voor op het gebied van toeleveringsketenplanning met seaexplorer, ons intelligente platform voor zeevrachtdiensten in het containervervoer. Met seaexplorer hebt u de transparantie die u nodig hebt om de meest geschikte routeringsopties voor uw zendingen te kiezen.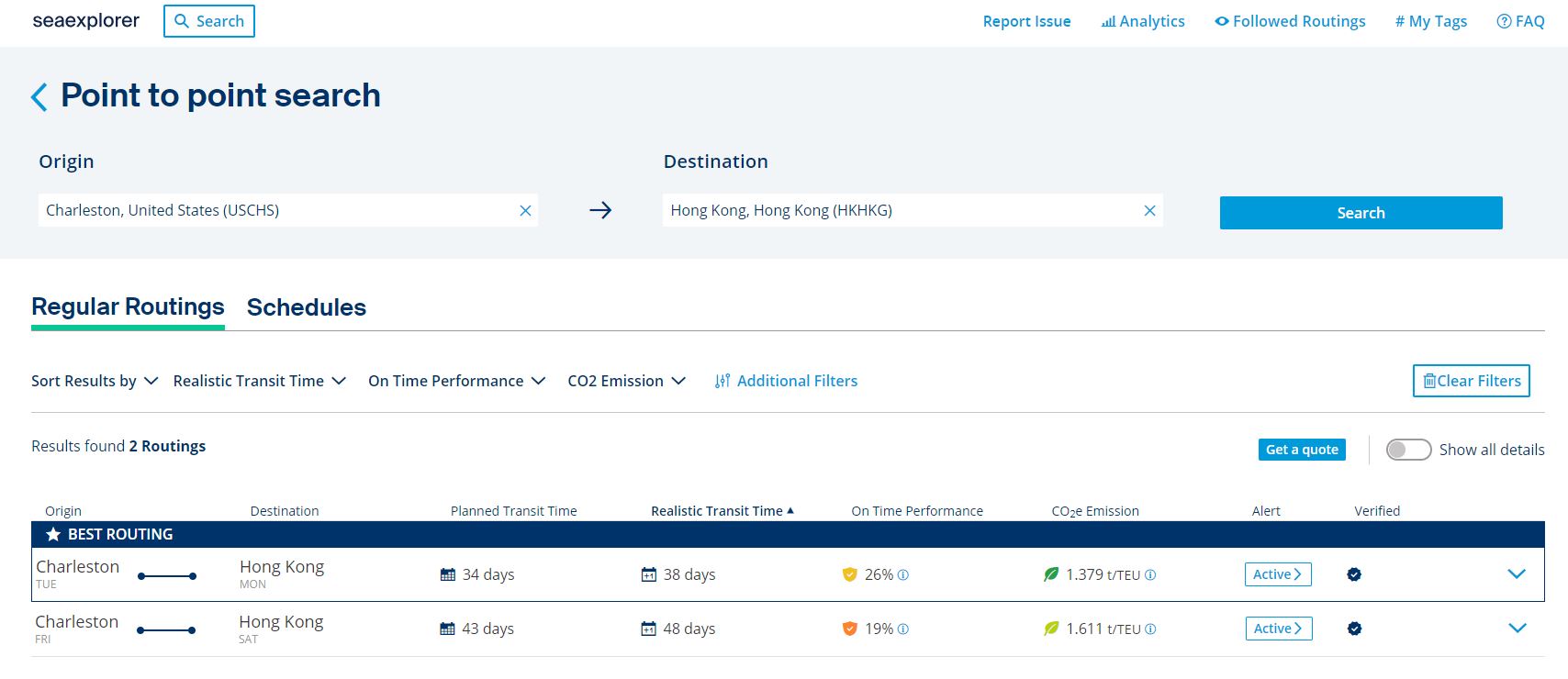 Uw voordelen:
Meer gemoedsrust met ons samenwerkingsplatform myKN, waarmee u uw zendingen in realtime eenvoudig via een enkele tool kunt monitoren en volgen
Meer betrouwbaarheid door gegarandeerde toewijzing van ruimte bij alle rederijen en flexibele verzendschema's
Een enkele geïntegreerde oplossing: levering van deur tot deur via de weg, het spoor of de binnenvaart
Minder complexiteit dankzij ervaren verwerking van landspecifieke vergunningen, certificaten van oorsprong en documenten
Lees het meest actuele nieuws van Kuehne+Nagel Sea Logistics of neem vandaag nog contact met ons op voor meer informatie.